Finance Manager
POSITION TITLE: Finance Manager  
REPORTS TO: Associate Director 
SUPERVISES: No existing positions 
COMMITTEE PARTICIPATION: Finance
STATUS: Salaried exempt employee, part-time or full-time negotiable 
SALARY: Competitive and commensurate with experience
CLOSING DATE: Open until filled 
ABOUT PRICKLY PEAR LAND TRUST 
Prickly Pear Land Trust (PPLT) is a nationally accredited, robust regional land trust in Montana whose mission is to connect people to land. Headquartered in Helena, Montana and serving a four county region, PPLT operates three main programs: Trails, Lands, and Community Conservation.
For 25 years, PPLT has a deep history of partnerships with public and private landowners – projects over the years have built-out a nationally-renowned public land estate in Helena's South Hills, with one of the best trail systems in the region. Encompassing over 90 miles of trails, on a run, hike or ride in the South Hills, you cross lands owned by the Forest Service, City of Helena, Bureau of Land Management and private citizens, but never leave a PPLT-managed trail.
Through private land conservation easements and the occasional fee-title purchase, PPLT's lands program works with local working ranch families to guarantee vital open space and habitat are protected against subdivision and development. We make conservation a viable financial option.
In our Community Conservation program, PPLT seeks to engage people in our service area, helping to encourage more people involved and outside – regardless of age or ability. Delivering services like those at our Tenmile Creek Park - creek access, trails, and educational programming - to underserved segments of the community is key to expanding the "conservation tent".
The next 25 years will be a time of immense growth as the organization exponentially expands these three focus areas. With pillars such as innovation, adaptability, equity, inclusivity, and community first, PPLT will continue to transform their service area to meet the needs of an evolving region. 
The PPLT team is a group of dedicated, passionate, ethical and solutions focused individuals. Human connections and relationships are at the core of their work and success. PPLT staff and leadership have built a Happy Trails culture that embodies: health, inclusivity, sustainability, connection, and fun! 
Prickly Pear Land Trust offers competitive compensation, retirement and healthcare benefits, generous paid time off, a collaborative work environment as well as a flexible in office and remote work policy.
POSITION DESCRIPTION
Prickly Pear Land Trust is looking for an individual who not only embodies the Happy Trails culture, but someone who can take the existing finance process and maximize its potential to match the pace of the organization. Someone who can execute PPLT's financial needs with confidence, passion and intelligence. The Finance Manager is responsible for the management and reporting of financial data to the Executive Director, Associate Director and Board of Directors. The Finance Manager oversees the proper accounting of the financial assets of PPLT and ensures accurate financial information contained within the accounting, grants and donor software systems. In addition, the Finance Manager assists in fundraising events, audits, accreditation, Montana Association of Land Trusts financial support, and payroll oversight.
 AREAS OF RESPONSIBILITY
 FINANCIAL MANAGEMENT
Complete all aspects of accounts payable/receivable and prepare monthly liability payments

Prepare and complete deposits of all checks/cash received. Enter all credit card and EFT payments in the accounting system.

Make required journal entries into the general ledger to maintain accurate reporting on all PPLT checking and investment accounts in preparation for monthly account reconciliation

Work in conjunction with staff and board to prepare the annual PPLT budget

Track and record financial information on land and easement transactions

Prepare financial reports as needed for staff 

Assist with the financial management aspect of special events: Don't Fence Me In Run/Harvest Moon Auction and Banquet/Summer Block Party, etc. 
 BOARD/COMMITTEE RESPONSIBILITIES
Attend monthly Finance Committee meetings and create and present financial statements and reports

Provide written and/or oral reports on finances/fundraising to members of the Board of Directors as needed or directed

Work with the Finance Committee, Board Officers and Executive Director in management of investment accounts and transaction oversight
 ANNUAL FINANCIAL AUDIT
Assist in preparation and completion of annual audit and Form 990, to include preparation of requested audit and tax schedules and responding to substantiation requests from the independent accounting firm

Other duties as assigned
 GRANT TRACKING/PROCESSING
Maintain grant tracking and timelines for invoicing and distribution of grant payments in conjunction with PPLT Program/Development staff

Work with appropriate staff to ensure all expenses and distributions are consistent with grant agreements, terms, and conditions
 MEMBER/CONTRIBUTOR COMMUNICATIONS AND MANAGEMENT
Prepare and distribute all donor thank you letters/receipts

Process all contributions and maintain accurate information on all members, contributors, event sponsors in the donor management software program

Prepare/produce reports as needed and/or directed on members/contributors and contributions
 PAYROLL PROCESSING
Assist in bi-weekly payroll processing

Reconciliation of payroll and related benefits as applicable

Administer benefits package in cooperation with Associate Director  
ACCREDITATION
Assist Staff and Board in any application follow up and re-application as necessary, typically, every 5 years  

Attend webinars and read all guidance documents to be appropriately prepared

Once application is complete and approved, work with staff to ensure all Policies and Procedures are followed, updated, and filed in a timely manner
 MONTANA ASSOCIATION OF LAND TRUSTS (MALT) SUPPORT
Prepare MALT budget worksheets and finance tracking information for ED as needed.

Track and reimburse PPLT for admin fees, payroll, and benefits.

Prepare reimbursements to MALT employees as needed and record all debit card transactions.

Invoice and track all dues payments from member land trusts to MALT.

Perform other financial/administrative duties as necessary.
 MINIMUM QUALIFICATIONS 
Bachelor's degree in related field 

At least 5-7 years of experience

Non-profit finance management preferred 

Experience managing diverse activities to meet deadlines

Experience working and communicating with a wide range of people and backgrounds

Experience working with databases, including managing and tracking data

Abide by PPLT's Code of Ethical Conduct 

Strong organizational skills and attention to detail

Creative and forward thinking 

Embody the Happy Trails culture

Genuine interest and ability to keep diversity, equity and inclusion within your frame of vision at all times 
DESIRED QUALIFICATIONS
Experience with QuickBooks and donor management software, Donor Perfect preferred 

Ability to analyze information for the purpose of preparing reports, coordinating efforts and solving problems

Prior experience working on a major fundraising event

Genuine interest in financial investment policies 
ADDITIONAL JOB INFORMATION 
This position requires some evening and weekend work time
BENEFITS INCLUDE
Paid Time Off: 20 days per year + 10 paid holidays 

Health Insurance and Health Savings Account contributions

Simple IRA retirement contributions after 6 months of employment  

Eligible for a 3 month sabbatical after 5 years of continuous employment 
APPLICATION PROCEDURE 
Please submit a cover letter explaining your interest in the position, resume, and three professional references to: Rachel Rountree, Associate Director,

rachel@pricklypearlt.org

. 

The position will remain open until filled with an initial deadline of Friday, October 22. 

No phone calls please
Apply
Your application has been successfully submitted.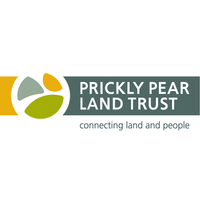 Connecting Land and People